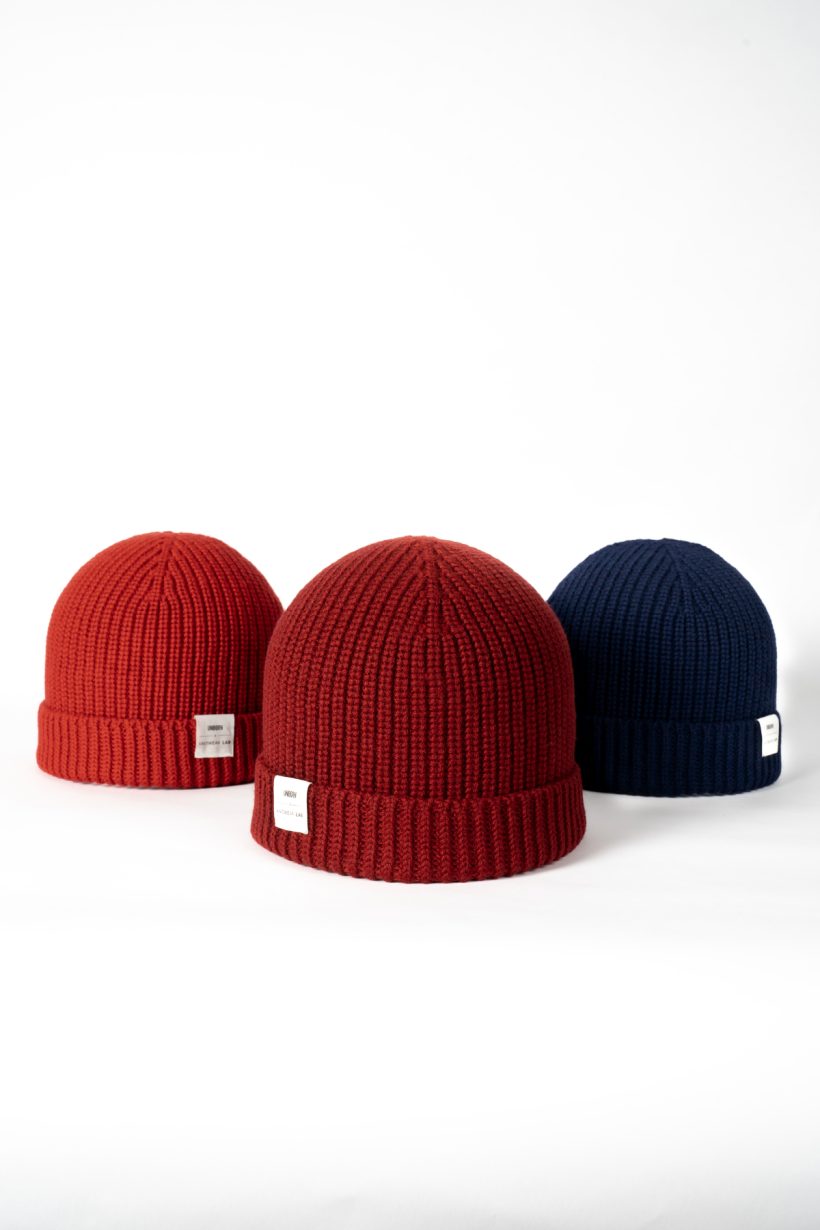 The Beanie
THE BEANIE
The beanie, as it should be. Natural materials, seamless knit, super soft and made for usage. This 5 ply chunky beanie is made with STOLL-knit and wear® technology, which means that no linking, cutting or sewing is needed. We knit and you wear! The textured half cardigan stitch is densely knitted creating an insulating rib that will also stretch into the perfect fit, combining the best of both worlds.
The yarn is a one-of-a-kind Cradle to Cradle certified, superfine, long staple Merino Arkaba yarn. That is to say: it is as soft as it is durable. The C2C certifications ensure a chain from sheep to beanie free from harmful chemicals and animal cruelty.
The brand label is made from GOTS certified organic cotton and has a QR-code to trace the beanie's origin to the farm where it came from.
DESIGNED BY UNBORN
DEVELOPED AND PRODUCED AT KNITWEAR LAB – THE NETHERLANDS
€49.00 incl. VAT
SHARE THIS ITEM
Materials
100% 19µ Superfine Merino wool

Fiber: 100% 19µ Superfine Merino wool from Australian mulesing-free sheep from the Congi Station
Yarn: Combed 2/30 NM, Cradle to Cradle Certified™ Arkaba yarn from Botto Giuseppe

What is special about the yarns we use?
We exclusively use yarn from the Naturalis Fibra range, courtesy of Botto Giuseppe. It is the only woolen yarn in the world with a Cradle to Cradle certificate. Botto has achieved GOLD level overall and PLATINUM for material health, the highest level of certification possible. The wool can be traced back to the Congi Station in Walcha, Australia. The woolen bales are unpacked and combed at Romagnano Sesia, the only remaining combing facility in Italy and are dyed and spun into yarn in Biela, North Italy.
Knitting Technique
The goal was to create a chunky beanie with good shape retention that could become everyone's favourite. We challenged ourselves to create a seamless knit & wear construction using only one type of stitch. To create the chunkiness, we selected a half cardigan stitch and a 2/30 Nm yarn in 5 ply and used our coarsest 3.5.2 gauge STOLL CMS 530 KI machine. We had to navigate five threads, one yarn carrier, two needle beds, multiple transitions and tensions to find the sweet spot that would allow a seamless construction without sacrificing the shape retention and durability.
Care
The beanie could not be easier to care for, that is, if you choose to care for it all. If you do, we recommend a gentle wash by hand, with a soft detergent intended for wool fibers. In case the rib starts to lose its elasticity, you can easily recover it by using a steamer or an iron with a steam function. Do not press the iron on the rib but hoover it over.