KNITWEAR FOR DION LEE
KNITWEAR LAB's continuous collaboration with New York-based fashion brand DION LEE
KNITWEAR LAB's continuous collaboration with New York-based fashion brand DION LEE
In the past years KNITWEAR LAB has been conquering the knitwear world within Europe and abroad, working with beautiful high-end and up-and-coming brands. But we are also proud to have brought our knitwear expertise overseas – to New York. Fashion season Fall/Winter 2023 marks KNITWEAR LAB's continuous collaboration with renown Australian-born and New York-based fashion brand DION LEE. Known for experimental construction combined with traditional tailoring, the brand translates its design values also in knitwear: always keen to experiment with knitwear textures, patterns, intricate techniques, and special yarns. To acknowledge our contribution to the exquisite, innovative, and highly technical work of DION LEE, we would like to highlight some of the past seasons' knitwear designs that were developed and produced by KNITWEAR LAB.
FALL WINTER 23
The latest FW23' collection of Dion Lee features a unique knitwear piece, which was brought to life by KNITWEAR LAB. Snake skin became the inspiration for the knitted piece in the collection and was translated into a delicate see-through knitted fabric. The knitted top with an intricate serpent pattern was realised with a fine recycled polyester yarn, which keeps the structure of the complex knitting technique. A fine lace stitch was used to translate the snake skin inspiration, resulting in a surface that subtly reveals the skin.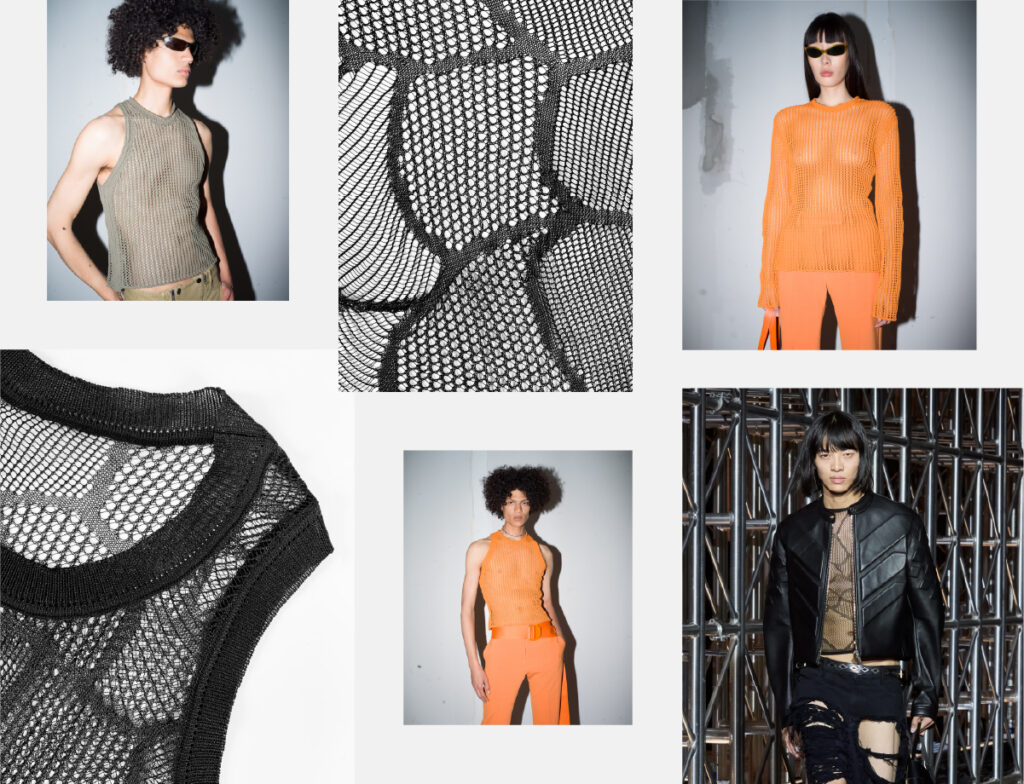 RESORT 23
Another recent collection, Resort 23', continued exploration of the monstera leaf motif from previous seasons, this time in a more subtle design approach than in previous collections. A range of chunky mesh sleeveless and long-sleeve tops in two colourways were developed for Resort 23. The knits were made with a 'grid mesh' stitch and included an intarsia elbow patch in the shape of a monstera leaf. The tops were subtle in design, but chunky in touch and feel, thanks to the thick 100% cotton yarn by Be.Mi.Va. Dion Lee played around with a revealing see-through look in combination with thick and heavy feel.
SPRING SUMMER 23 
Earlier on, Dion Lee presented another exquisite collection, SS23', featuring knitwear developed together with KNITWEAR LAB. The collection incorporated such themes as symbolism of the monstera leaf, layering of colours and textures, as well as unexpected combinations. One of the knitwear styles, called Monstera Ghillie, referenced a monstera leaf motif, which was used strategically to cover and reveal the body. The knits were made with a combination of fine and textured yarns, creating a subtle sheer and solid difference on the body. Other knitted styles in the collection featured floats as a knitting technique, which is one of Dion Lee's signature elements in knitwear. The Float Fringe knitted dresses in the collection were created with highest quality fine viscose yarn in a double-faced technique, where the face of the garment and inside surface are in two different colours.
FALL WINTER 22
Finally, the first knitwear that KNITWEAR LAB ever created for Dion Lee was for their FW22' collection. Delicate floating-threads technique that the designers chose for the FW22' knitwear, showed technical complexity and attention to detail. The collection featured floating knitted garments, reminiscent of architectural forms, draped statues, pillars and columns. Exquisite high-end knitwear was created in a variety of styles, in delicate shades of black and ivory. Executed in compact 100% mercerized cotton, the knitted traveling floats are revealing and concealing the skin, creating a sleek look.
Knitwear development | Ia Kahkohen @iakahkonen at KNITWEAR LAB
Creative direction Dion Lee |

Jen Lee

@dionlee
Knitwear design Dion Lee |

Varpu Rapeli, Lauren Frauenschuh
Photography FW22 |

Aaron Lippman @aaronlippman
Photography SS23 |

IMAXtree @imaxtree
Photography Resort 23 |

Aaron Lippman @aaronlippman

,

Emilio Tamez @e.miliotamez
Photography FW23 |

I

MAX

tree @imaxtree

, KNITWEAR LAB