INTERNATIONAL WOOLMARK PRIZE 2023
Knitwear for IWP23' finalists A ROEGE HOVE, MAXXIJ and BLUEMARBLE
INTERNATIONAL WOOLMARK PRIZE 2023
Knitwear for IWP23' finalists A ROEGE HOVE, MAXXIJ and BLUEMARBLE
In May 2023, a special event was held in Paris, where the International Woolmark Prize 2023 winners were announced. KNITWEAR LAB is proud to be once again involved as an Innovation Academy partner, and to contribute to the innovative knitwear of three of this year's eight finalists: A. ROEGE HOVE, BLUEMARBLE and MAXXIJ. KNITWEAR LAB had the opportunity to explore the exciting designer collections first hand, and to witness one of these outstanding designers – A. ROEGE HOVE – win the Karl Lagerfeld Award for Innovation.
The International Woolmark Prize celebrates outstanding fashion talents from across the globe, who showcase the beauty and versatility of Australian Merino wool. It is the world's most prestigious award for rising fashion stars. The International Woolmark Prize connects an astonishing list of industry legends, both past and present for a better tomorrow. KNITWEAR LAB was happy to have had the opportunity to share our knitwear knowledge and expertise to the talented young designers, each of whom showcased a commitment to upholding the Woolmark Company's pillars of product excellence, innovation, supply chain transparency, sustainability and inclusivity.
A ROEGE HOVE
An expert panel of IWP 2023 judges awarded Denmark's A.ROEGE HOVE the Karl Lagerfeld Award for Innovation, as the designer impressed the judges with the freshness of her collection and the attention paid to the supply chain and manufacturing process. Her collection demonstrates the power of innate complexity of knitwear. KNITWEAR LAB worked together with A.ROEGE HOVE on development of knitted textiles with a certain complexity, which makes them unique and difficult to read. One of the goals was to find different ways of incorporating floating yarns into structures, where floats are not usually seen. Besides, every textile is compatible with the fully fashion technique, which reduces waste in the production process.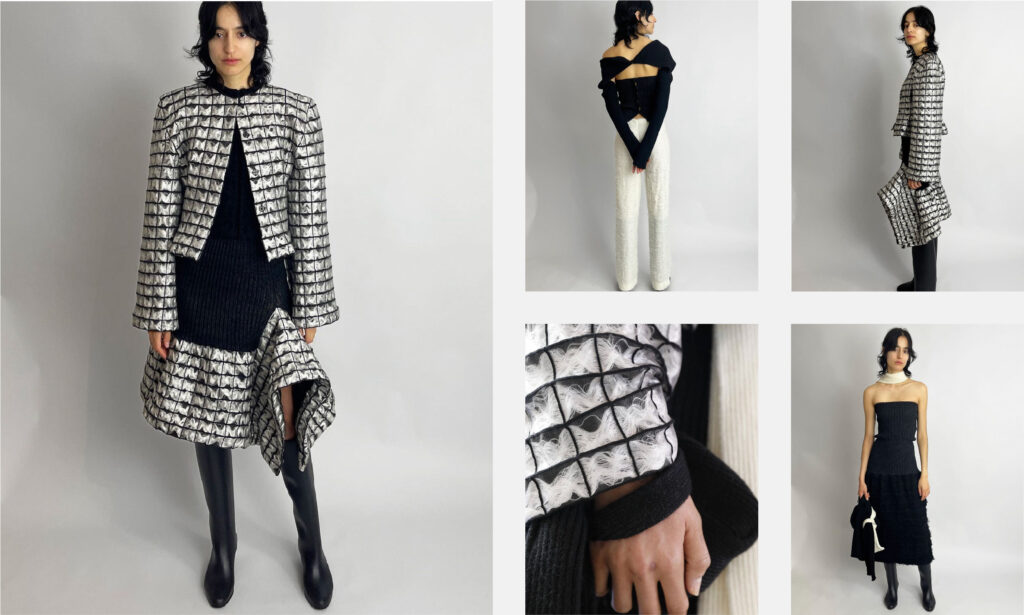 MAXXIJ
Collection created for Woolmark by South Korean designer MAXXIJ aims to celebrate the diversity of individuality. Inspired by the work of Katharina Sieverding, the collection features designs with overlapping structures, repetitive images and the creation and disappearance of light. MAXXIJ explored advanced knitting possibilities together with KNITWEAR LAB to maximise his design ideas and produce knitwear products that can reduce ecological impact by use of seamless knitwear technology. MAXXIJ chose to work with diverse knitting techniques, including single and multi-colour jacquards, as well as combining twill, interlock and full cardigan stitches. All items are made of 100% Merino wool from Südwolle and Tollegno.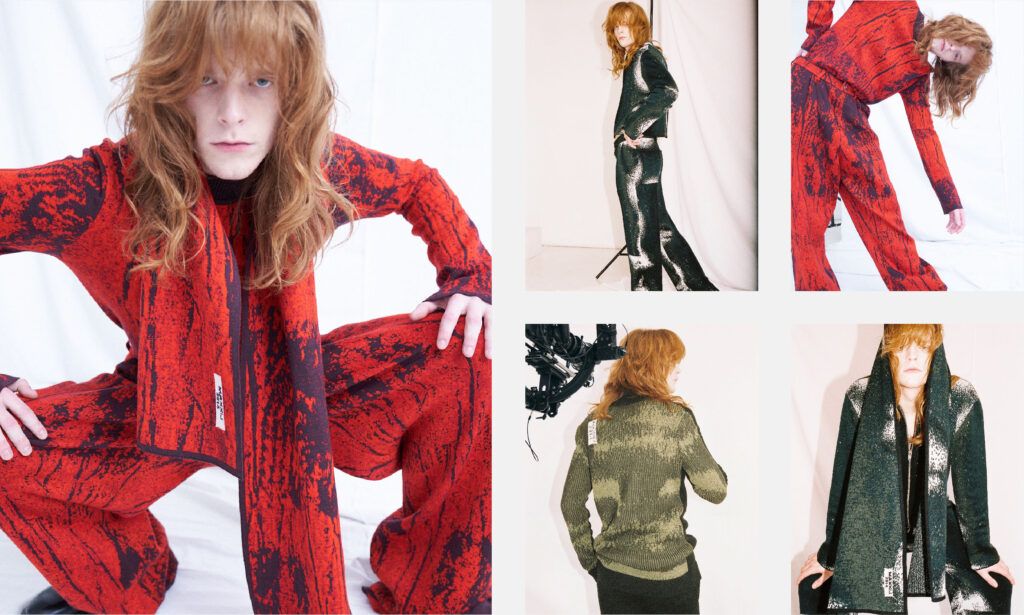 BLUEMARBLE
French brand BLUEMARBLE is a vast and free-spirited vision propelled by exploration and youth culture. Elevating singularity to universal status is the visionary dream BLUEMARBLE is striving to bring to life, making a mosaic of cultures the lifeblood of its brand. The collection is a vibrant mix of places and stories, of memories and moods, of graphics and colours. Our specialists at KNITWEAR LAB – Istanbul developed a range of innovative merino wool jumpers for the IWP23 collection, which combined advanced knitwear possibilities, such as the drawstring technique in a jumper with adjustable fit.